About Us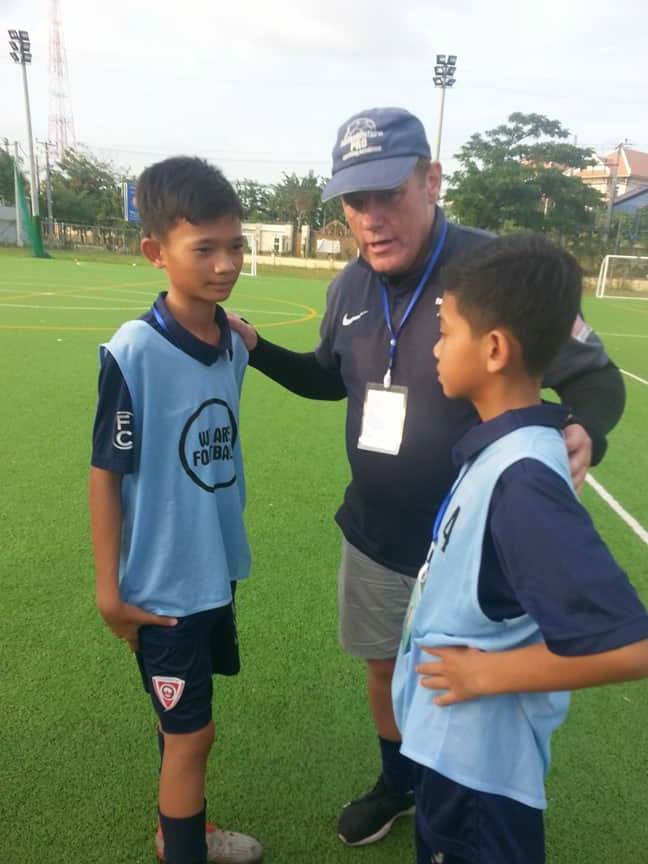 Background
The Football Future Pro Coaching Academy was established by A licensed professional coach John McGlynn in 2015 in Phnom Penh. John has been coaching at elite representative level with junior, senior and professional levels in Cambodia and Australia for over 25 years. After taking on a senior coaching position with Cambodia Premier League (CPL) team Phnom Penh Crown in 2012, and a brief stint as head coach at Boeung Ket FC, John felt his skills and experience would be better utilized outside mainstream club coaching. Since that time John has turned his energies and passion toward Cambodian youth education and development through football.
Cambodia has now moved through a post-conflict phase in its recent development. Like many other aspects of Cambodia's society sport, including professional football, suffered severe setbacks during the years of conflict. There has been a resurgence of interest in football since the late 1990s, but it still remains in the early stages of establishing itself regionally and internationally. Football's popularity among Cambodia's youth is nonetheless growing fast. All weather and futsal pitches full of enthusiastic youngsters have multiplied in recent years in Phnom Penh's cramped streets and elsewhere in the provinces.
Opportunities for young people interested in pursuing football for something more than just recreation, are limited. Outside of Cambodia's Premier League clubs there are few places offering international standard professional coaching. In addition, despite a reduction in poverty rates many Cambodian families remain vulnerable and at risk of falling back into poverty. According to a 2014 World Bank report, the loss of as little as 1,200 Cambodian riel or US30 cents in income could throw as many 3 million families back into poverty, doubling the rate to 40 percent. Inequality is growing and income disparities and employment opportunities combined with poor health and education services are major challenges facing the country.
By far the biggest natural advantage Cambodia has is its youth. Figures from the United Nations Development Program (UNDP) show that 65.3 per cent of Cambodia's population is under 30 yrs old. It is with this group that Cambodia's future lays. Many Cambodian youngsters remain disadvantaged and are excluded from opportunities to improve their lives. It is our belief at the academy that through football we can make a contribution in helping to address these issues. The immensely positive role football plays in developing social capital and generating civic pride is a given in places where the game flourishes. Football has an important part to play in this regard, and we are committed to making that happen here in Cambodia.
Our Vision
Our vision is the development of professional standard football academy that provides young and disadvantaged Cambodian players with affordable opportunities to be the best they can be irrespective of background or level.
Core Values
Our core values revolve around: community, sportsmanship, integrity, sacrifice, dedication, work ethic, growth mindset, self-esteem, self-confidence, communication skills, leadership, respect for others and excellence. Values which once instilled, last a lifetime. The academy's programs and strategies reflect a deep commitment to these values instilling a deep belief in both self and team.

Our Mission
Football Future Pro Coaching Academy is a youth football academy dedicated to creating a suportive, positive environment which challenges athletes to recognise both their potentiial as a football player, athlete, student and part of a community as well as the power they hold inside each of them to reach their goals. FFPCA is committed to our players, parents, staff and community and pledge to conduct our actions and words with character, a continuous drive towards professionalism and sprortmanship to honor the history of this great sport. Our mission is to implement programs and strategies that will help realize our vision as follows:
A fun, safe, supportive, positive specifically outcome based program of football coaching for 3-20 yr olds
Programs follow the highly successful Football Federation Australia model
Future Pro High Performance Player Development
Mini Kickers and Mini Future Pro Programs
Goalkeeper Specific Programs
Schools, Holiday, Futsal, Private and Club Programs
Scheduled Competitive Games
Sponsorship/Academy scholarship
Right now the academy is in the early stages of development and has limited resources. We need your support. We are seeking sponsors and partners to help us fund all aspects of our mission. Our long-term success ultimately depends on our ability to help create a national youth system. Our short term goal therefore, is to establish the academy as a center of coaching excellence in Phnom Penh.
Our needs are both great and small. In terms of space, we currently have to rely on renting futsal pitches that have proliferated here in Phnom Penh in recent years. We are currently paying in rental fees for pitches for a three month period. Ideally, we need our own dedicated space within which to operate. This would involve the purchase of land and the construction of buildings and infrastructure. The academy needs its own minibus to move staff and players from place to place. Specific costs of these items and budgets can be made available on request.
On a smaller scale, we need ongoing support for basic equipment like footballs, coaching materials, boots and players kits. As far as staff is concerned, We have three assistants who receive monthly compensation for their knowledge and expertise. In return for your support we can offer a number of benefits. First and foremost, you will be part of a unique organization that is in the process of putting Cambodian football on the map, nationally, regionally and internationally. Football in Cambodia is now poised to grow exponentially in the coming years. We can also offer free advertising in the form of advertisement banners, public announcements about your company, organization or individuals. Company and organization logos will appear on player's playing kits, on the academy and other related websites, and in promotional materials including TV and radio programs.
If can assist us with our mission now and for the FUTURE we would love to hear from you. Feel free to contact us at This email address is being protected from spambots. You need JavaScript enabled to view it.